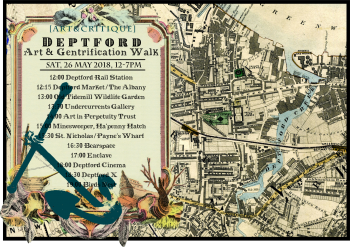 In May [ART&CRITIQUE], a London-based alternative art education network, is visiting Deptford for a day of discussions on art and gentrification.
Join them for a tour of galleries, studios, community spaces and landmarks on a walk along the streets, waterways, green spaces and new developments.
They will meet artists, curators and activists to explore how they are resisting or overcoming the displacement of communities and the shrinking of public and creative spaces.
Meet them at 12noon inside Deptford Rail Station (Deptford High Street, London SE8 3NUAll, booking not required) or join them along the way. Please scroll down for the itinerary and a map of the route. More information and a detailed map are available at
https://artandcritique.uk/art-crawl/
I came to London, I was very lucky, at a time when you could still squat in central London and survive here and have enough space to have a studio to work. But now, young artists coming to London – where would they even start? The rents are unbelievable. It's frightening. (Grayson Perry)
Itinerary
12:00
Deptford Train Station
Deptford High Street, London SE8 3NU
12:15
Deptford Market
&
The Albany
Douglas Way, London SE8 4AG
13:00
Old Tidemill Wildlife Garden
Reginald Road, London SE8 4RS
13:30
Undercurrents Gallery
Birds Nest, 32 Deptford Church Street, London SE8 4RZ
14:00
Art in Perpetuity Trust
Harold Wharf, 6 Creekside, London SE8 4SA
15:00
Minesweeper Collective
Ha'penny Hatch, Deptford Creek
15:30 Heading north towards the river we will visit remains of the 16th century Royal Dockyard, passing by the church of St. Nicholas, the site of the former Deptford Power Station, Payne's Wharf, Master Shipwright's Place, Twinkle Park and the Dog & Bell.
16:00
Steven Pippin
158 Deptford High Street, London SE8 3PQ
16:30
Bearspace
152 Deptford High St, London SE8 3PQ
17:00
Enclave
, 50 Resolution Way, Deptford SE8 4AL (for GPS use SE8 4NT)
18:00
Deptford Cinema
39 Deptford Broadway, London SE8 4PQ
18:30
Deptford X
9 Brookmill Road, London SE8 4HL
19:00
Birds Nest
32 Deptford Church Street, London SE8 4RZ